Power Boat Courses
Power Boat Level 1 & 2
Course Duration: 2 Days
Course Cost: P.O.A.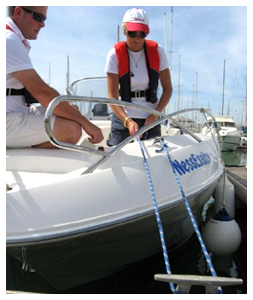 The Level 1 & 2 course covers basic boat handling, engine checks and safety. It is ideal for the new owner who is conscious of the difficulty and potential hazards of boat handling in the marina and wishes to obtain more enjoyment for all concerned by setting out simple passages in safety.
It is also a useful course for the crew. Apart from the obvious safety value of having extra boat handlers on board, it adds interest if everyone can understand and contribute to successful passage-making.
This course forms the basis of the ICC which is very useful if you intend to purchase your own boat.
The Level 1 & 2 Course can be be done on your own boat if required. Please contact me above for more information.
The Power Boat Level 1 & 2 Course Detail
Previous experience required: None
The course is mainly practical and is continuously assessed, there is no written exam.  It's my aim to ensure all students complete the course.
The syllabus for the Power Boat Level 1 & 2 Course comprises the following items:
Practical
Launching and Recovery Boat
Handling Securing to a Buoy
Anchoring
Leaving and coming alongside
Man Overboard
Shore Based
The types of craft and their respective advantages/disadvantages
Engines & drives
Use of power tilt & trim tabs
Safety checks
Personal buoyancy
Awareness of other water users
Application of the collision regulations (IRPCS)
Local bylaws
Towing and being towed
Communication with other craft
Emergency action
Distress signals
Fire precautions and fire fighting
Rope work