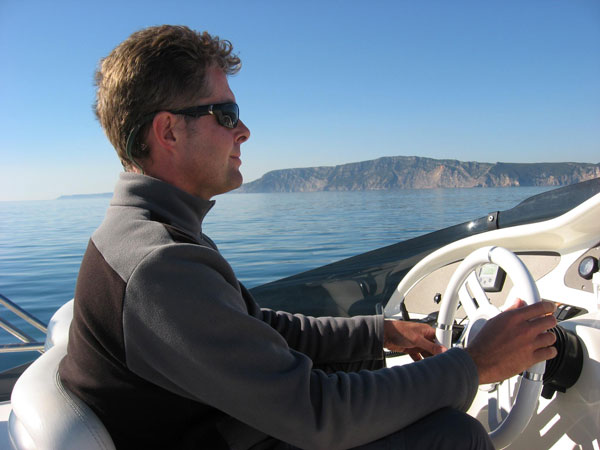 About Rob Harris
About Rob Harris

Robert "Harry" Harris has been living and sailing in the Algarve since 2004,  born in Dublin, Ireland in 1970 he is an easy going and friendly person.
Boating Qualifications
Motor Cruising
RYA Yachtmaster Ocean Power, Commercially Endorsed RYA Yachtmaster Instructor Motor Cruising
Sailing
RYA Yachtmaster Ocean Sail, Commercially Endorsed RYA Cruising Instructor Sail
Powerboat
RYA Advanced Day and Night
RYA Advanced Powerboat Instructor
PWC Jetski
RYA PWC Instructor
Boating Experience
From 2004 until present he has been working in the Algarve, organising charters and trips.  At the start he spent more time on the water as a charter skipper taking families and groups out for day trips and longer.
In more recent years he has been devoting more of his on the water time to his school but still finds time to organise charters for clients.
Over the years he has built solid relationships with most of the charter providers in the Algarve.  As a result he has access to wide range of boats and will find you the best vessel for your day out.
From 2006 he has been working as an RYA instructor for Sail, Motor Cruising and Powerboats. "I have delivered many courses on a variety of school boats and owner vessels. My area of special expertise is teaching people from scratch, ensuring they have a fun introduction to boating while learning in a safe environment." He also really enjoys helping existing skippers to improve their skills on their own boats and introducing them to the Algarve, it's many beaches and good places to visit.
Rob has been sailing from the age of 15, taking part in the racing and cruising scene in Ireland. Competing on a Hunter Impala "Wild Mustard" for 4 years they were East Coast Champions twice, Howth Autumn league winners, Cork week winners and won many regattas in Dublin Bay.
Please take a look at our testimonials page for some of our happy guests.